Simon Wilcox isn't exactly new to the music business ( her father is the canadian veteran bluesman David Wilcox) but recently she is beginning to get the credit she deserves. Raised in ottawa, she now lives in Toronto after a short stint wandering Europe.
She made her debut with Mongrel of Love in 1999 which had her distinct jazzy edge and sexy whisper as well as her fierce honesty. Her voice can be powerful or quiet and sultry which adds a uniqueness to each song. The honesty, ferocity, and beauty of her music has been compared to Ani DiFranco a veteran of the folk-y chick rock genre.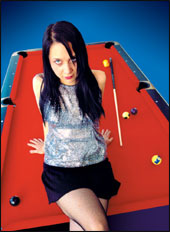 Her sophomore album, Smart Function, is just as soulful and honest as its predesessor expect her tone and lyrics are that much more together. Her music is a refreshing missmatch of blues, jazz, and good old fashion chick rock. The soft n' hard hit "Mommies and Daddies" is a good example of her elegant but betwitching style. Other songs to check out are "Right Ride" and "Smart Function" but in all honesty every song in the Smart Function collection is a small opus in and of itself, each one offering something different. Some new artists tend to fall into the unimusic zone; that is to say that all their music starts to sound the same after awhile. It seems, however, that Wilcox has managed to dodge that bullet.
Smart Function is a masterpiece, combining both worthwhile lyrics and beautiful music and it is sure to attract all the attention that this talented songstress deserves. Personally, I am one of the listeners who cares about the lyrics as much as the music. I believe one is limp and lifeless without the other. Simon Wilcox delivers and then some.
This article contributed by Miss Bunbun.