Hmm let's see.
Miss Bunbun alias Angie began expressing her opinion at a young age and now feels the need to put it on the web.
She is an aspiring artist, designer, and poet and enjoys all three.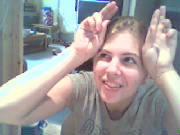 Like my bunny ears?
Likes: Smashing Pumpkins, my dog Congo, red lipstick, ferrets, Junko Mizuno, classical music, manga (Chobits!), band tees, italian food, lace gloves, bright coloured mocassins, eighties pumps, chick rock (Alanis to Blondie), vintage, unicorns, bunnies, chick peas
Dislikes: fake people, nasi goreng, superfluous spices (like terragon and thyme but not oregano), two-dollar words, alfredo sauce
You've heard about me now tell me about you!